This is the LEPIN [] 07090 – The Joker Manor Real Reviews from our lovely customer nickname Ralf Papst at Germany.
The set is essentially identical to the Danish version – more info here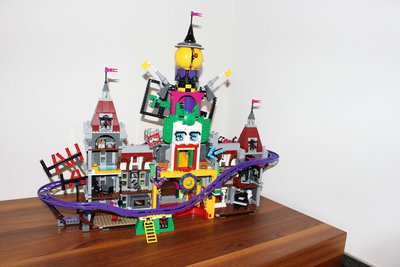 The manual comes, as usual, in a volume and arranged according to construction stages. An addendum with corrected missing is also included – Lepin has even optimized a bit and supplied a few higher 2×1 stones

The stones are also numbered according to construction stages, so you can build quite chilled on several days. My son man took about 1 week. There were no misses, a few little things (see below) are wrong, the roller coaster works wonderfully.
All in all, a very cool set, you hardly notice a difference to the Danish original. Even the minifigures are perfect this time, with one exception.
A few more impressions:
From the front:
Figures (Robin / Nightwing has the wrong mask – here you have to order the Pogo version):
The roller coaster works without problems.
The interior is perfect.
1st mistake: the red bowl in the background is wrong. Must be reordered at BrickLink …
2nd mistake: from the pan has become a loupe?
All in all from the back …
Conclusion: perfect, as far as you can tell for the price difference. Suitable for children from 8 perfect to build, just takes longer, but due to the many construction stages (22!) Absolutely no problem. Perfect playable, only suitable for pure Ausstellzwecke, because it is very "colorful" (original sound of my "boss"
) and it's just VERY BIG!
Buy LEPIN: Click HERE